ROARING DAN'S PIRATE DUNGEON
Turn of the century pirates on Lake Michigan have you held in their hideout. Make your escape before the tide comes in and their leader, Roaring Dan, makes you walk the plank.
EXHIBIT YOUR WIT IN A DARING ESCAPE FROM RUTHLESS PIRATES!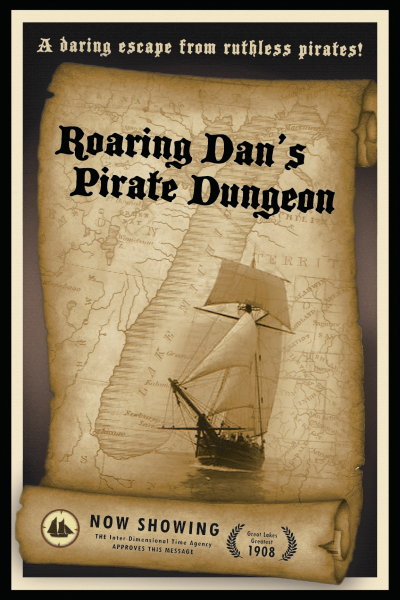 LOGIC HEAVY, DEXTERITY
This game is designed for 7-8 first time players.
This game works really well with 5-6 intermediate players.
This game works really well with 3-4 experienced players.
This game is possible with 1-2 players.*
BOOK YOUR TICKETS
Sessions are available 10am-11pm Monday-Friday and 10am-7pm on Sunday. Escape Games located at the Time Gallery must meet the minimum requirement of 3 players or $99 per session. If you plan to play alone or in a pair, you may purchase a third ticket to meet this requirement, or call the box office at 773-789-9535 to be placed in a room with other players.
For general queries, please visit our FAQ page. Please direct specific questions to the box office via e-mail: boxoffice@escape-artistry.com or call 773-789-9535.
HOURS
| | |
| --- | --- |
| Sunday | 10:30AM–7:00PM |
| Monday | 10:30AM–10:30PM |
| Tuesday | 10:30AM–10:30PM |
| Wednesday | 10:30AM–10:30PM |
| Thursday | 10:30AM–10:30PM |
| Friday | 10:30AM–11:30PM |
| Saturday | 10:30AM–11:30PM |
Roaring Dan's Pirate Dungeon
BOX OFFICE